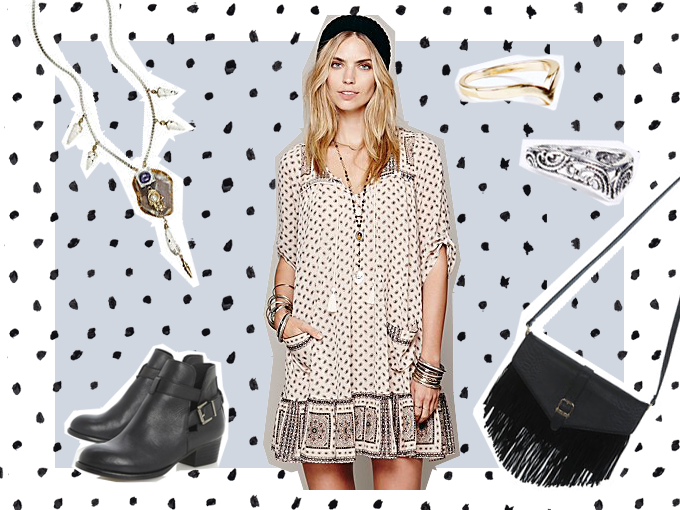 1. River Island Silver Tone Hand & Stone Pendant Necklace, £18.00, 2. Dune Cut-Out Side Buckle Detail Leather Ankle Boot, £89.00, 3. Free People Penny Lane Chiffon Dress, £98.00, 4. Urban Outfitters Triangle Midi Ring, £6.00, 5. Urban Outfitters Filigree Midi Ring, £8.00, 6. Miss Selfridge Black Fringe Clutch, £10.00
So I have been after this drop waist, smock dress by Free People for ages now, its just so lovely. It is a bit on the pricey side for me right now as I'm currently saving up to visit Australia early next year, but I reckon I could get some wear out of it all year round if I do take the plunge and purchase it. The dress looks light enough for summer and would work well layered with woolly tights and a big cosy cardigan for autumn.
Cut out boots seem to be a pretty big thing at the moment, I'll be writing a blog post all about them in the coming days so keep you eyes peeled! This pair from Dune look like they would be nice and comfortable, not too high a heel and made out of nice soft leather. The Miss Selfridge handbag looks like they'd match really well with them (without being too match-y) and is in the sale at £10, which is pretty reasonable for a bag you could wear any time of the year. I'm also on the look out for some lovely delicate, natural stone jewellery, such as the River Island necklace.
What is on your Autumn wish list?